Entrepreneurs, digital marketing has to become part of your business strategy. If you are still unsure about this statement, then this article is for you. Making sure your business survives in this digital age has become a necessity.
Every entrepreneur needs to know and understand digital marketing because the world is moving toward digitalization at a fascinating pace, and for some businesses, it has been expedited by the COVID-19 pandemic. There is no reason you should be left behind.
Entrepreneurs, in this article, we will break down the top 5 things every business should be doing online.
Let's get you online, shall we?
1. Open a Google My Business Profile
The Google Search Engine dominates the search engine world today. With over 92.41% market share as of March 2021, it is the most used online search platform in the world.[1]
As an entrepreneur, you need a Google My Business profile. This is a free tool that allows businesses of any size, particularly small businesses and nonprofits to boost their online presence. Your business information is listed and promoted on Google Search and on Google Maps to gain more visibility on the Google Search Engine.
All you need to open a Google My Business profile is the business name, location, and category. If there are no duplicates online, then the site will create a profile for your business. Like social media platforms, businesses can create posts, share deals, and communicate with consumers. And for consumers, they can add photos, leave reviews, ask and answer questions, and text the business, all within the Google My Business profile.
The aim of the Google My Business profile is to attract and engage customers more efficiently. You can connect with more customers through messaging and phone calls that you receive directly from the Google search engine. This data is trackable too, so you can gain important insights about calls, clicks and more.
Other benefits of the profile include:
The ability to see how your brand resonates with your customers on Google.
The ability to feature photos, products, and services directly on the Google Search Engine.
Online visibility is everything these days and your search engine ranking is critical to you turning potential customers into paying customers. Without a Google My Business profile, the chances of you converting leads is significantly limited. Why? Because search algorithms on Google prefer to rank businesses that use paid ads or that utilize online tools like Google My Business at the top. Google suggests businesses increase their local ranking by using Google My Business and ensuring the profile is complete and accurate. Google determines local ranking by three factors: relevance, distance, and prominence. This is in addition to your position in search results, so SEO best practices apply. Be sure to keep reading to get to #5 on our list of digital marketing for entrepreneurs, SEO, to learn more about this.
Google My Business profiles on Google Search looks like this: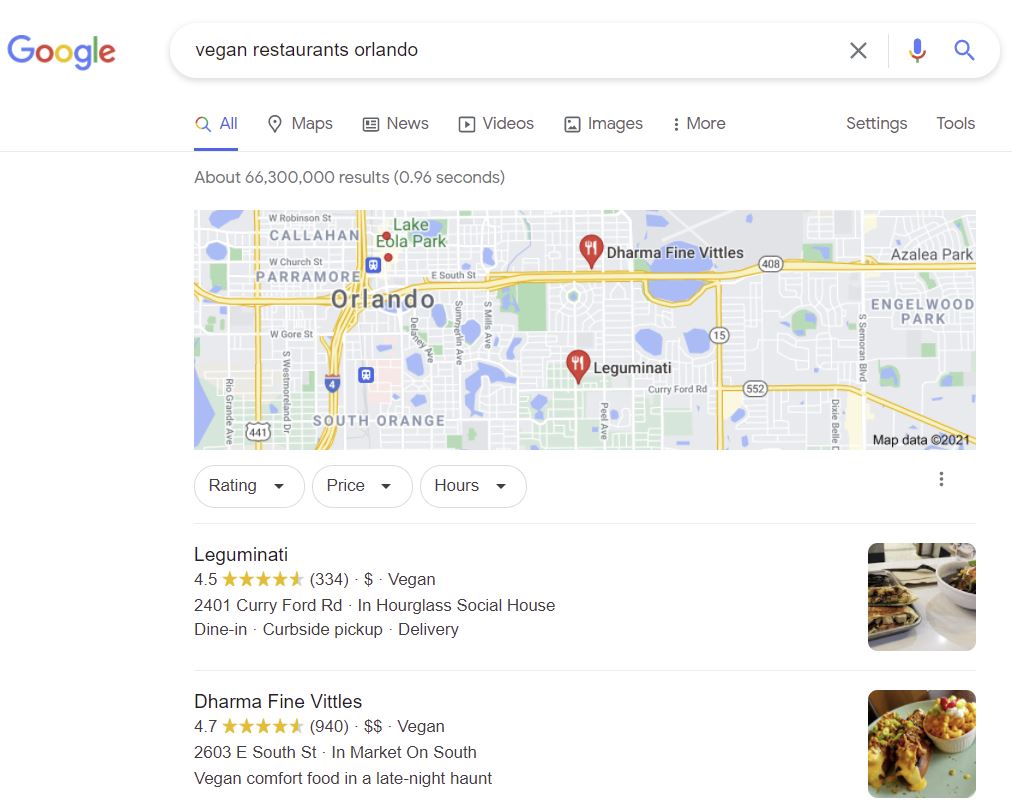 ---
2. Create a well-designed website
Your website is the online gateway to your business. Sure, having breathtaking offices is great. In 2021, however, investing in an impressive website is more important. An effective website can easily become your cash cow with very little effort from you once the groundwork is done.
Think of your website as your online curb appeal. It is the first impression that your potential or existing customer has about your business and what you do. Studies[2] show it takes just 0.5 seconds for the average consumer to form an opinion and decide whether to stay or leave your website. According to Sweor, 38% [3] of people will stop engaging with a website if the content or layout is unattractive. This means if your website is not appealing enough or if it's confusing, you are most likely losing a lot of potential clients.
There is nothing stopping you from operating your business without an up-to-date or functioning website. The truth, however, is that a dated website is a colossal waste of resources and not having one is a waste of opportunity. There is so much to gain from having a user-friendly and up-to-date website. It instantly boosts your credibility as a business.
If you're thinking about WordPress for your website, or currently have a WordPress site, you may be interested to read this article, Getting Started with WordPress [Expert Roundtable].
3. Get started with email marketing campaigns
Even with the dominance of social media, most people still operate and use their email daily. Research shows that email marketing is well received by consumers, with two guiding principles: be human and provide relevant content.
Email blasting people you don't know, otherwise known as spamming, is a sure-fire way to get you blacklisted by your IP provider and your account cancelled by your email provider like MailChimp or Constant Contact. Don't do it. It certainly violates the "be human" guiding principle of email marketing campaigns, and most likely the "relevance" principle too. So, let's add that as a third guiding principle which we should be explicit about: only email people who gave permission to do so.
Email marketing campaigns are a brilliant strategy for entrepreneurs because:
According to a marketing communications study by Exact Target[4], 77% of consumers choose email as their preferred delivery method over text and social media.
Email marketing reaches your customers directly.
It improves your client's experience by keeping them up-to-date with any additional information that might apply to them.
It adds a personal touch by improving your communication channels with potential and existing clients.
Bear in mind, however, that your standard business email address will not cut it here. Not only will it be hard to police, but you could end up getting blacklisted, as previously mentioned. The best strategy is to invest in an email marketing software specifically built for such work. You should avoid using your business email provider and stick with an email marketing company, like MailChimp or Constant Contact. One caveat: if you've got a sales team making one-to-one introductions with prospects, you're probably safe to use your standard business email rather than a specialized platform. Read more about prospecting emails here in this article, Writing Effective Prospecting Emails: An Instructional Guide.
In 2019, the Return on Investment (ROI) on the average email marketing campaign was pegged at $42 for every dollar that was spent.[5] That is a huge profit margin. Entrepreneurs that cannot harness the power of email marketing not only miss out on this return, but also set themselves up for limited success. This is especially true for small businesses or businesses that have just started out. You need as many arrows as you can grab in your quiver.
Drip campaigns are something you should consider. They can help automate your email strategy, which is very important for busy entrepreneurs. You may be interested to read this article, How to Create Your First Email Drip Campaign.
4. Have interactive social media pages
Social media use is on the rise globally. In fact, we can confidently say that it is now a part of our everyday lives. There are many online inquiries per day on search engines. You can maximize this by improving your online visibility. You can't be everywhere at once. Choose the platform that is making the most waves with your target market and branch out to other platforms when you're able to commit to them. You'll be happy to know that Facebook and Instagram are connected and you can post once and hit both platforms simultaneously. This might be a good strategy to quickly grow your presence in both social media platforms if you're just starting them, but you'll want to consider Facebook and Instagram as unique in the future. That's because Facebook and Instagram likely cater to two different audiences for you, requiring two different types of content. For example, Facebook typically has an older demographic compared to Instagram. Treating each social platform as unique in terms of the content you deliver should be the general rule of thumb, wherever you choose to be present. Determine the audience and what they want from you. Be human and provide relevant content (we heard that before, didn't we?)
The numbers do not lie. Over 80% of people in the US have a social media profile. It is big business. You have to tap into the magic of social media if you want your business to survive in today's world.
Adults who have buying power will most likely research your social media pages to see if you have a visible and interactive presence. As an entrepreneur, you cannot afford to sideline social media. Not only will your business come across as outdated, you risk losing credibility. It's 2021; what business in their right mind will not have at least one social media page (asks your prospects)?
It's not enough to be on social media. You need to be interactive with your followers. Engage with them, solicit feedback, and certainly be responsive to their inquiries. More on social media responsiveness here, in this article, The Importance of Timely Social Media Responsiveness.
5. Write content with search engine optimization (SEO) in mind
SEO is "the practice of increasing the quantity and quality of traffic to your website through organic search engine results." [6]
As simple as this sounds, the process involves a lot of moving parts. Your role as an entrepreneur is to ensure that you produce online content that helps your website to rank high in the search results.
Why is this important? Think of it this way, how often do you click on the second results page on Google? If your online content does not appear on the first page, the likelihood of you attracting customers to your online pages is next to zero.
Understanding what SEO is and how to optimize your online content is an essential digital marketing skill that every entrepreneur should have.
Summary of Digital Marketing for Entrepreneurs
There you have it. Five digital marketing practices entrepreneurs need to know about and utilize. To recap, they are:
Open a Google My Business Profile
Create a well-designed website
Get started with email marketing campaigns
Have interactive social media pages
Write content with search engine optimization (SEO) in mind

Recent Posts
Article Resources
[1] GlobalStats https://gs.statcounter.com/search-engine-market-share
[2] Sweor https://www.sweor.com/firstimpressions
[3] Sweor https://www.sweor.com/firstimpressions
[4] Rochester Institute of Technology http://printinthemix.cad.rit.edu/Fastfacts/Show/546
[5] Kinsta https://kinsta.com/blog/email-marketing-statistics/#:~:text=In%202021%2C%204.03%20billion%20people,as%204.48%20billion%20by%202024.